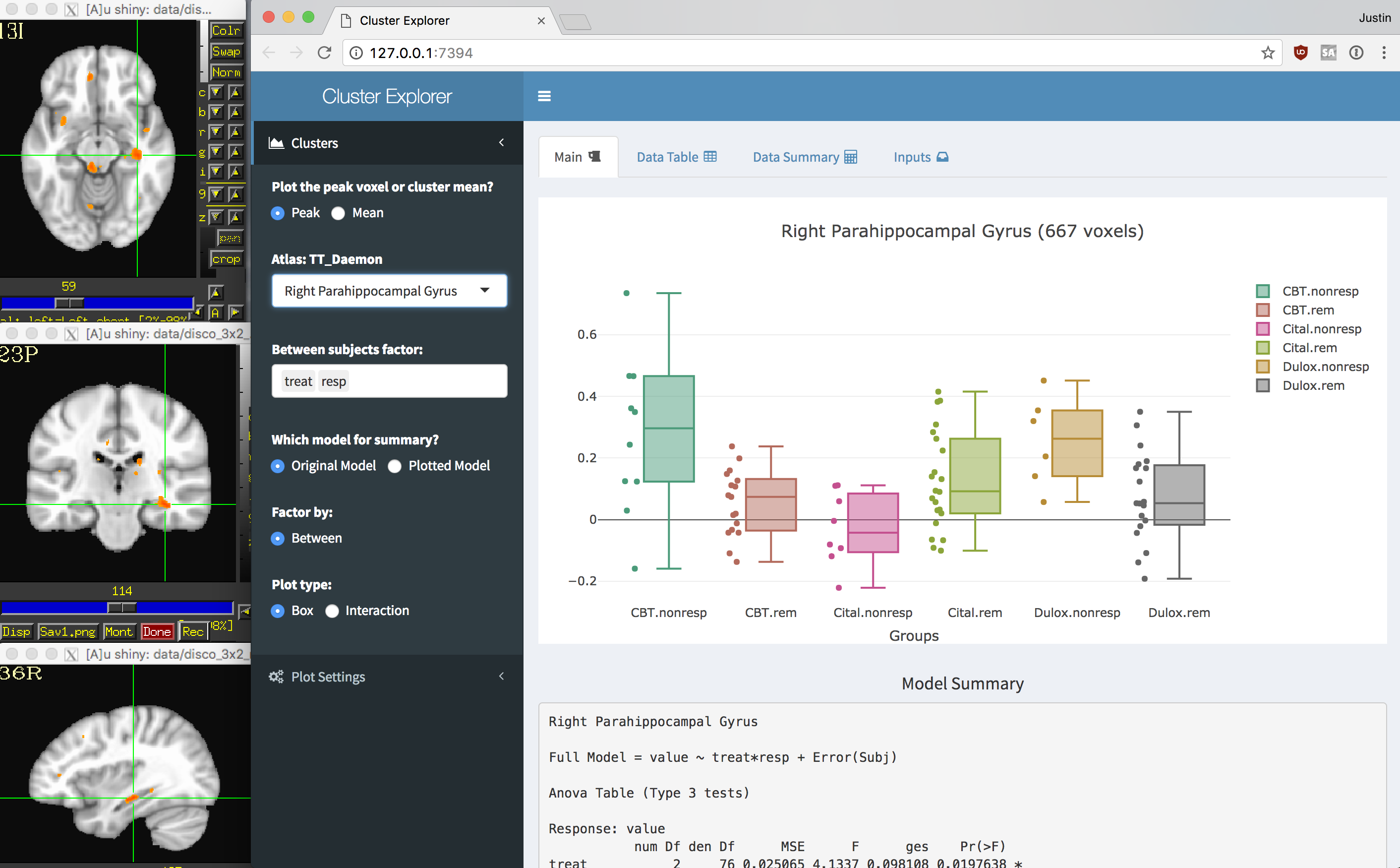 Cluster Explorer is a set of scripts that will allow you to explore your data after you have run some group level analysis. This may hopefully save you some time in preparing your data for figures, publications, and sharing. It automates a few data wrangling steps that enable you to explore your subject data at the cluster level. The end result is a shiny app that you can view in your web browser linked to a afni instance that displays your thresholded statistics dataset and clusters. You can learn more about shiny apps here.
The basic functions performed are:
Collect all of the input datasets.

Threshold and clusterize the statistics dataset.

Look up atlas locations for each cluster.

For each cluster, extract the data from the all of the input datasets.

Extract the model information from the statistics dataset.

Label all clusters for all subjects and merge with the model information.

Create a shiny app that you can share to interactively explore and plot your data.
The Cluster Explorer includes:
ClustExp_HistTable.py

@ClustExp_CatLab

ClustExp_StatParse.py

@ClustExp_run_shiny
Make sure AFNI and R are installed and configured correctly.

Run @afni_R_package_install -shiny to install necessary R libraries.
It helps to be fairly organized… Although not necessary, it is a bit easier if all of your analyses and input datasets are on the same file system. At minimum you need to know where everything is now and where it was when the analysis was run.
You will need (more specifics below):
An output dataset from 3dttest++ or 3dMVM. 3dLME support coming soon.

All of your individual subject datasets.

At least the datasets that went into the analysis, but you can have more.

A table with your subject ids and current paths to the datasets in a table.

Again, you can have more than what was in the analysis.

The master template to which the input datasets were aligned.

This will serve as an underlay for viewing results with the shiny app.
@ClustExp_CatLab will collect the input datasets into one big dataset.

ClustExp_StatParse.py will extract cluster-wise subject level data, organize everything and create a shiny app.

@ClustExp_run_shiny will launch afni and your browser to view the results.
Flow chart coming soon.
---